NHS Hospital Trust Pilot of New Testing Technology Sees Pregnant Women in Southampton Become the First Patients Globally to Access Gestational Diabetes Testing at Home.
Oxford, United Kingdom 19/04/2023 – Digital clinical diagnostics and diabetes home testing provider Digostics and University Hospital Southampton NHS Foundation Trust (UHS) announced today a partnership that will see expectant mothers under the care of UHS maternity services become the first, anywhere in the world, to access ground-breaking new remote testing technology designed to improve screening for gestational diabetes mellitus (GDM). The collaboration involves a pilot introduction of the only regulatory-approved home-use oral glucose tolerance test (OGTT) testing-solution, GTT@home, developed by Digostics.
"We hope this revolutionary new at-home test is going to dramatically change the way we deliver gestational diabetes testing during antenatal care," said Matthew Coleman, Consultant Obstetrician, UHS. "Not only is it better for the patients to self-test in the convenience of their own home, cutting down the number of antenatal appointments they attend, but it will also free up precious NHS time and resources."
"We hope this revolutionary new at-home test is going to dramatically change the way we deliver gestational diabetes testing during antenatal care."
According to the International Diabetes Federation, up to 20%¹ of UK pregnancies are impacted by GDM, with background risk factors including the age, ethnicity and body mass index of the expectant mother². Left undiagnosed or untreated, GDM can lead to perinatal complications such as foetal macrosomia (larger than average babies) that warrant unscheduled or even emergency changes to the birth-plan to protect both mother and baby. Additionally, 50%³ of women experiencing GDM can go on to develop type 2 diabetes (T2D) within 10 years†. The condition also confers an 8-fold increase for the child of developing T2D in adulthood. Prompt identification of GDM is key.
"Digostics is excited to work with UHS to explore how GDM screening can be streamlined through home-testing," said James Jackson, CEO and Founder, Digostics. "Our aim is to demonstrate how we can transform diabetes detection in pregnancy by taking the OGTT to the expectant mother, resulting in increased test uptake, reductions in test overheads for healthcare providers and the earlier return of GDM diagnoses."
The OGTT – a fasting test involving an initial blood test, the immediate consumption of a glucose drink and then a second blood test after a two hour wait - is the only recommended test for detecting GDM. However, as the OGTT is currently offered only in-clinic, the inconvenience for patients and the provisioning challenges posed for healthcare providers frequently constrains test throughput and can lead to delayed testing.
"From the admin resources it takes to book and manage clinics, the clinical time taken to run the service and the clinic space taken, this can all now be done with a simple test at home using the GTT@home kit," added Matthew Coleman. "In addition, patients are able to test at the earliest opportunity, meaning fewer delays and, if gestational diabetes is detected, they can be treated and managed quickly helping to keep them and their babies safe."
The GTT@home service is based on a simple-to-use home test kit containing the novel GTT@home test device, a glucose drink and finger prickers. The test kit is mailed to the expectant mother at the time the test is due. Easy to follow instructions, online guidance and telephone support ensure that the test can be completed conveniently at home on the day of choice.
When completed, the user can immediately send their test data to their care team by scanning a snap-off fob attached to the test device with a smartphone using the GTT@home mobile app. This is enabled by the near field communication (NFC) functionality within the device, with the process akin to making a contactless mobile payment in a store. Alternatively, the patient can post the fob in the supplied prepaid envelope for processing. The GTT@home testing service also includes a software platform that enables the antenatal care team to schedule tests and view patient results.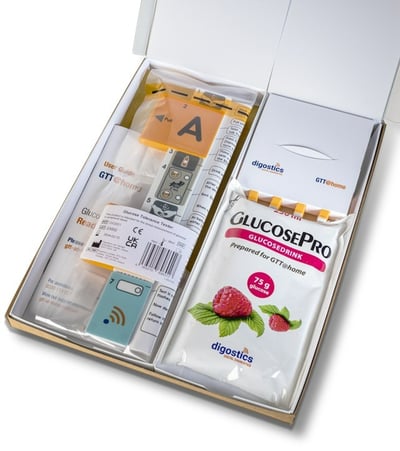 The GTT@home test kit is comprised of the GTT@home tester device, a glucose drink and finger prickers.
Key aims of the collaboration include improving healthcare equity of access and reducing health inequalities by eliminating barriers associated with in-clinic testing that can be felt more acutely within specific at-risk patient cohorts. To support this, Digostics is creating multilingual home-user support.
"We also hope that testing at home proves to be appealing to the complete background social and demographic populations that we work with and we look forward to receiving feedback from those involved in the next phase of research." further explained Matthew Coleman.
The above video outlines how the patient should prepare for and do their home test.
GTT@home achieved UKCA and CE market authorisation in 2022, becoming the first and only regulatory approved alternative to the in-clinic OGTT. A first phase pilot of GTT@home involving a small caseload of patients was conducted with UHS in November 2022. This announcement reflects the move to a higher volume second-phase project designed to prove the service's overall effectiveness.
"With this pilot representing a global-first, UHS' international reputation for clinical innovation makes it the perfect partner for this project." said Oenone Duroe, UK Market Access Director, Digostics. "We hope a successful pilot will see maternity services at other NHS trusts take their cue from UHS and explore the merits of GTT@home for diabetes home-testing."
About Digostics
Far too many people, in all geographies, are living with undiagnosed diabetes.
Digostics' mission is to enable healthcare providers to detect everyone with diabetes, and those at risk of developing diabetes, by eliminating the common barriers that inhibit testing and prevent the timely return of accurate diagnoses.
Digostics is proud to offer GTT@home - the most accessible and scalable way for clinical teams to realise their diabetes testing objectives.
About University Hospital NHS Foundation Trust
University Hospital Southampton NHS Foundation Trust provides services to some 1.9 million people living in Southampton and south Hampshire, plus specialist services such as neurosciences, cardiac services and children's intensive care to more than 3.7 million people in central southern England and the Channel Islands.
UHS is one of the largest acute teaching trusts in England with a staff of 13,000 and a turnover of more than £1bn in 2020/21.
We are one of only two major trauma centres in the South of England for both adults and children.
UHS is consistently one of the UK's highest recruiting trusts of patients to clinical trials.
Could GTT@home be of assistance to your patients?
Please get in touch by completing the form below or calling us on +44 (0)330 113 9145.